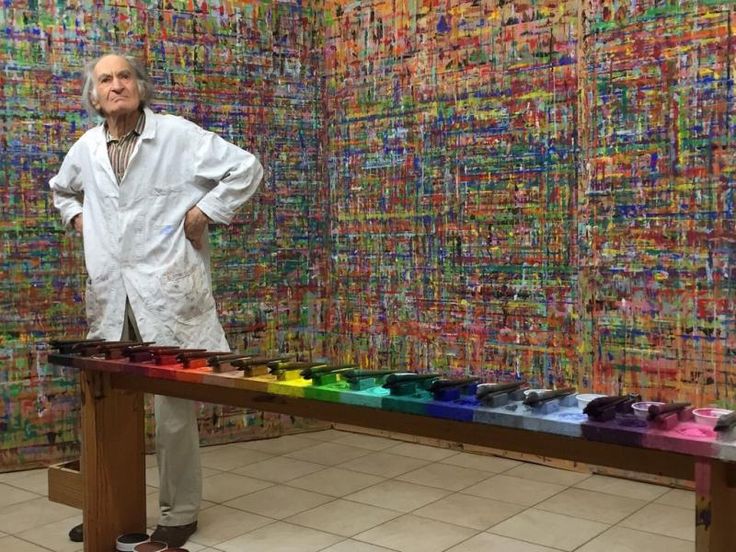 by Ibone Olza, MD, infant psychiatrist.

Last week Arno Stern invited me to his workshop in Paris: the Closlieu. Since I left there at 11 pm and began to stroll along the Montparnasse under the drizzling rain, my brain has been searching for the words to write this blog entry. It is not simple.

Perhaps because when I left I was deeply moved, feeling gratitude and hope in equal proportions. Two hours before, at 9 pm, Arno had opened the door to his workshop and began telling me how, in 1944, he facilitated that children from a French orphanage could paint, and what he had learned since then. He and his wife, Michelle, gifted me with a true masterclass.

I listened with my whole being, trying to not let my emotions – or my surprise at this bright, vital 95 year old man who was before me – distract me.

I almost did it.

On several occasions I felt tears rolling down my cheeks. His words had a profound impact, my whole body knew what he was saying was true.

His discovery hides a deep truth: children, when they are free to paint without being judged nor observed, when their paintbrushes on white paper are not bothered by corrections or by questions – what are you painting? – when there is no outside purpose nor evaluation nor use, when these conditions are met like Arno has been doing for seventy years with thousands of children… then something emerges that is neither art nor communication, but something intimate and, at the same time, universal. When they sketch with freedom and confidence, a similar process takes places in them all, which Arno has observed and studied almost all his life: what he calls Formulation, which, according to him, has to do with organic memory:

 

Formulation reflects the evolution of the organism: the fetus is absolutely centered in its formation and development… His or her origin is the Organic Memory, that is, the archive that is within the organism where development is programmed.  

The formulation game is a constant oscillation between an intentional process and a spontaneous manifestation that wells from deeper parts of the organism.

Summing up Arno Stern´s work is impossible, but I recommend a beautiful book of his, Heureux comme un enfant qui peint (Joyful as a painting child), from which I take some words for this blog entry.

For me, his work is of immense importance, and its applied used far beyond facilitating infant play. Arno is a genius in many ways, but what most strikes me is his loving look at childhood. How he was able to create a non-judgmental space where boys and girls could paint. He told me that the director of the orphanage told him to ask the children to draw three images: one of themselves, another of their family and a third of whatever they wanted. Arno thought that the first two had a finality, as the director was a psychoanalyst and perhaps wanted to observe how these Second World War victim children viewed themselves. However, Arno asked the children only for the third assignment: to depict whatever they wanted. He observed them with absolute respect, and as years went by he discovered a common pattern in all those drawings, which were "neither art nor childish". He began studying that phenomenon that was taking place in his workshop:

I never ask the children about their drawings, and, therefore, no one comments their own picture, nor that of others.

 

The essential is never manifested in a fortuitous way, but only after great insistence.

 

It is so simple and yet so uncommon.

 

When the conditions are met, shut-down capacities are awakened in every person, without exception.

 

His lesson is authentic, it recognizes the importance of desire, of awakening spontaneity, that treasure that reaches its peak of expression when children paint or play. This opens our eyes to the drama of how much is repressed in children when they are asked to paint a certain way, or when they are made to color set images or there are corrected so they "paint better"… So, ultimately, this means inevitably criticizing the prevailing model:

 "You have been told that the best one wins, and that you must wish to be the best one. In this race for first place, you have unlearned serenity. You are so dependent on those who judge you that you cannot imagine an act that has no quantifiable results."  

"You confuse effort with bother. Since they have made a consumer out of you, you believe you must innovate, change, experiment, always different experiments… Being competitive, let's be clear, is supplanting others.  This means giving yourself the means to take other's place…. If you are a meek student you will become a dependent adult, desiring what they propose to you, accepting it like a boon, like a good grade given to the good student.

It has taken me days to understand why I cried, barely being conscious of it, when Arno Stern spoke to me, why tears fell silently and almost imperceptibly down my face. First I thought I had cried for all those children whom, as an infant psychiatrist, I had asked to draw me their families or their homes, for all the times I had asked them what they meant; for my children, whose drawings I keep as treasures, for all those children whose genuine expression we daily restrict (out of ignorance, Stern insists).

And even though all these reasons hold, I believe there was another. And it is that Arno´s discovery – respecting our deepest desires and facilitating their creative potency – spreads to many fields, like childbirth support, for example.  Research, when not hand in hand or preceded by that loving, non-judgmental gaze, can be untrue and even harmful.

And that loving, caring, non-judgmental gaze… It is so difficult for us to maintain that whenever we perceive it upon us, it moves us deeply. That is what brought my tears forth, I think.

PS1: I gave Arno a copy of my book Parir (Birthing), where, in the chapter about being born, I explain how spot-on his concept of organic memory is.

PS2: as in most magical, sacred moments, it did not even cross my mind to take pictures of my visit.