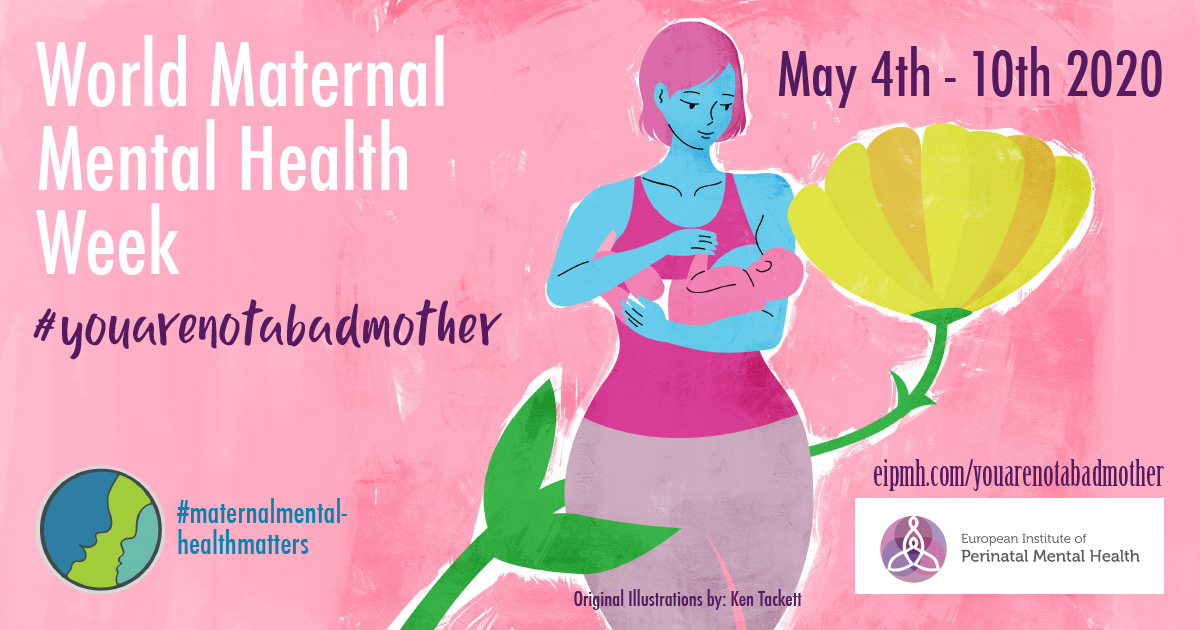 The first World Maternal Mental Health Day was celebrated in 2016, and is commemorated every year in the first Wednesday of May – this year, May 6th 2020.
World Maternal Mental Health Day was launched to raise awareness about mental health problems in the perinatal period, so as to encourage women to seek help and receive the support or treatment necessary to reduce their suffering and enjoy their maternity.
The common objective is to sensitize world population about the importance of maternal mental health and to optimize the resources that governments dedicate to prevention, detection and management of mental health issues during pregnancy and the first year after birth (perinatal mental health issues).
A campaign against stigma and blame
At the European Institute of Perinatal Mental Health, we join our efforts with the international community, by launching the campaign #youarenotabadmother
With this campaign, we mean to:
Contribute to overcome stigma which makes mother in mental health distress feel judged and therefore afraid to express their difficulties and reach out for the help they need and have a right to. Difficulties may range from loneliness in parenting to grave mental illness, as we understand psychological suffering to encompass a wide spectrum.
Contribute to point out cause and effect, understanding that many factors have an impact on maternal mental health: financial distress, job insecurity, family conflict, gender violence, unnecessary medicalization of pregnancy birth, obstetric violence, lack of social support and even the lack of physical rest in an economic system that has no regard for the amazing psychobiological feat that is gestating, giving birth and mothering a baby.
Contribute to a greater knowledge of the needs of mothers, babies and families in the perinatal period, how they may be satisfied in modern society, how social reality impacts maternal mental health and, therefore, family bonds and the physical and mental health of all society. By acquiring this knowledge, we can better support families and prevent distress.
Also,
During the week of May 4th to May 10th, we will discuss these aspects in detail.
We will offer information and resources, as well as scientific evidence about prevention and management of maternal mental health issues, so health care professionals may better support the families in their care.
Let's care for mothers
Reach out for help
More information:
World Maternal Health Mental Day
Our ecosystemic focus on perinatal mental health
Images:  ©  Praeclaruss press