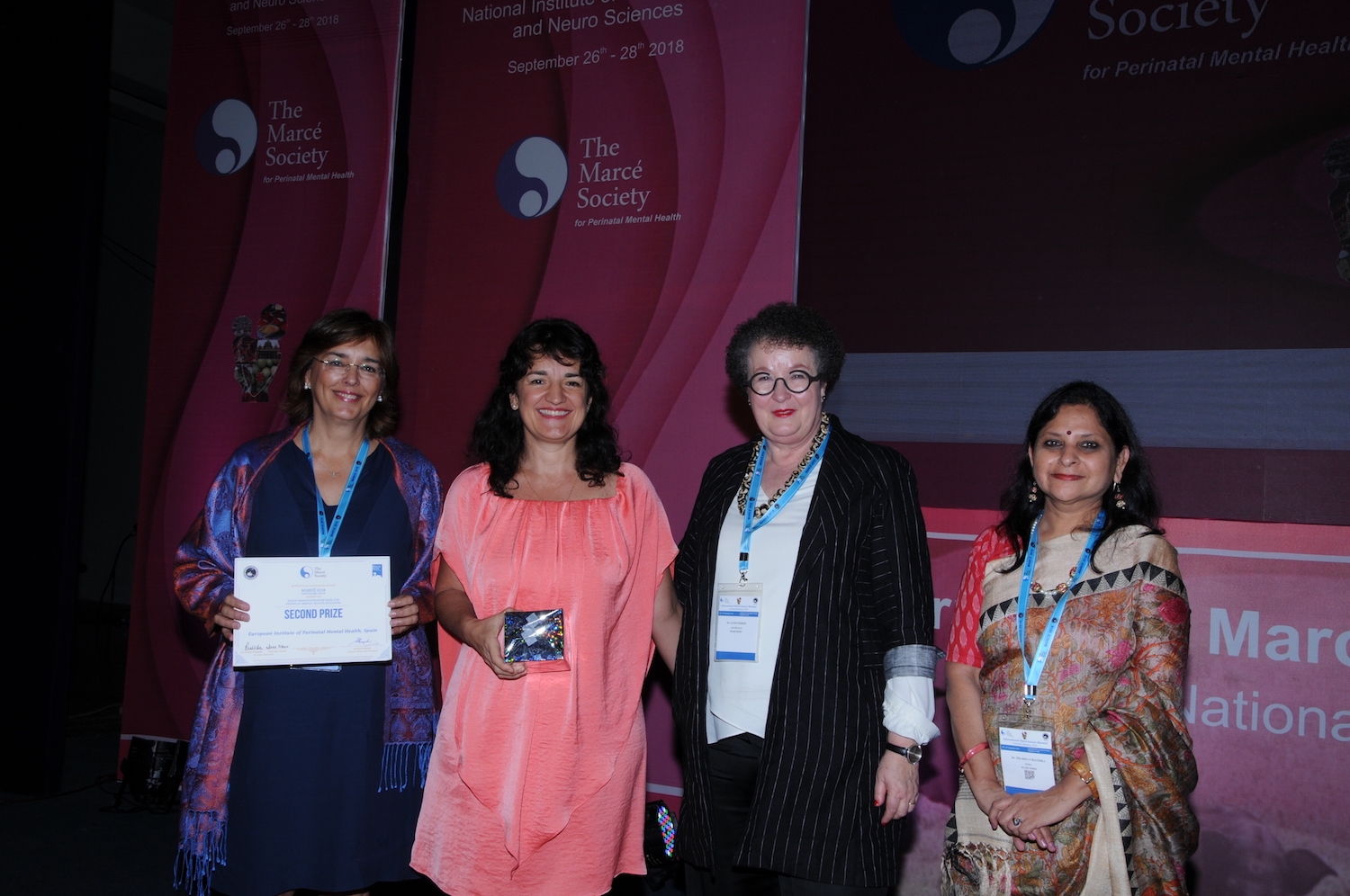 From left to right: Isabel Fernandez del Castillo and Ibone Olza (European Institute for Perinatal Mental Health), Jane Fisher (President of The International Marcé Society), Prabha Chandra (National Institute of Mental Health and Neurosciences)  co-organiser of the Congress
Monday, October 1, 2018
Bangalore, India.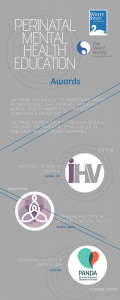 On Friday, September 28th, the European Institute for Perinatal Mental Health received the prize bestowed by two prestigious organizations, the International Marcé Society, the leading worldwide scientific association in the field of perinatal mental health, and the White Swan Foundation for Mental Health, a Bangalore-based Indian organization that promotes education and sensitization around mental health.
About the Institute
The Madrid-based European Institute for Perinatal Mental Health, founded and directed by Isabel Fernandez del Castillo and Dr. Ibone Olza, is a pioneer in education in perinatal mental health in Spain and is currently celebrating the fourth edition of its annual training. Founded with the mission to train professionals who work with mothers and babies during the perinatal period (physicians, psychologists, midwives, nurses…), with this prize the Institute enjoys recognition of the quality of its training, its innovative approach to teaching, its impact in Spain and Latin America, as well as its work in disseminating evidence-based information. The judges especially valued the learning promoted by the Institute in LAMI (low-and-middle-income) countries.
Dr. Ibone Olza is a pediatric and perinatal psychiatrist, professor at University of Alcalá in Henares, Spain, and internationally renowned researcher and author of numerous scientific publications found in diverse outlets, the most recent of which is the book Birth (Parir in Spanish, published by Ediciones B in 2017).
The Institute's training faculty is comprised of high-level instructors from within and outside of Spain, all with international recognition in research and/or clinical care, which facilitates a broad, integrated and multidisciplinary vision of perinatal psychology. The Institute also supports and benefits from a professional network that brings together hundreds of perinatal mental health professionals in Spain and Latin America working to improve the care of mothers, babies, father and families in more than 20 countries around the world. The EIPMH also offers a professionally moderated free, virtual, peer support forum for pregnant women and new mothers who are experiencing emotional suffering.
For More Information
English website:    eipmh.com
Spanish website: saludmentalperinatal.es