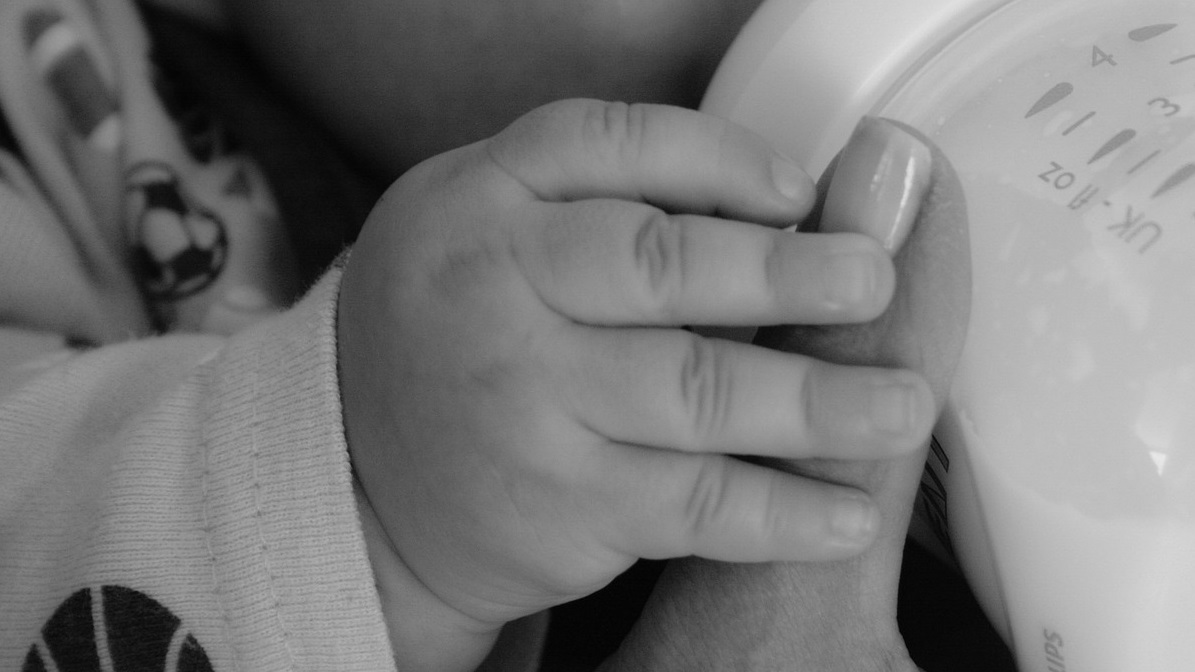 What baby expects after birth is to breastfeed, at mother´s breast. So if a mother is going to bottlefeed, it should feel to the baby as much as breastfeeding as possible.
In modern western culture, there is no substitute for a breastfeeding mother [1]. But anyone can feed the baby with a bottle. There are many valid reasons why a woman may choose not to breastfeed, and mothers must be respected and supported no matter how  they feed their infants.
But let´s look at it from the baby´s perspective; biological reality lays before us the fact that mother is the nurturing figure. The infant expects to be fed as part of a close relationship with her.  Our original design is that for many months food, protection and emotional bond happen in the same place: mother´s breast. Since breastfeeding is a relationship, when a mother decides to not breastfeed, she should be aware of how to mimic the relationship, so even if baby will lack the milk, he will not miss the experience.
What baby expects after birth is to breastfeed, at mother´s breast. So if a mother is going to bottle feed, it should feel to the baby as much as breastfeeding as possible. Companies that manufacture baby bottles have taken this to mean they must make the bottle teat as alike to the human nipple as possible, but they have it wrong… the important thing is the place where the feeding occurs: the mother. Mother´s body is the place where the relationship takes place. When giving the bottle, mothers can be encouraged to make themselves comfortable, bottlefeed slowly, relax with their babies in their arms when the milk is finished, caress and sing to the baby. Between feeds, mother can be encouraged to keep baby close, in a baby carrier or wrap, whichever is comfortable for her; to give the baby the closeness he expects, because it is what he needs.
Breastfeeding compels the mother to sit closely with her baby several times a day, often for long periods of time, and includes hugging and caressing. Bottlefeeding does not. It is easier to succumb to other "urgent" things, domestic chores, needs of older siblings or the seductive call of the Internet while someone else bottlefeeds the baby, or feeding it to the baby quickly to get it done, as one more thing on the crowded motherhood checklist.
Babies that are only held to be fed, and then spend the rest of the time in cribs or strollers, often learn to demand food as a way to be held. If this is frequent, two things may happen: they will be overfed, and their brain will make the connection food = emotional comfort. These occurrences can become a difficulty for children (and adults) later on, both in their relationship to food and their relationship with others.
Baby bottles are not evil and they are not guilty of ruining breastfeeding. They are tools; like a hammer and chisel can be used to pound someone on the foot and can also be used to create beautiful works of art, so it is with bottles. The trick is to use them thinking of the baby´s needs. A bottle can only address the need for food and drink, but not the rest of our babies´ basic needs: our skins, our arms, our voices, our eyes are the physical, tangible, necessary vehicles for love.
In real life, many mothers who come to our clinic to consult about breastfeeding difficulties are using bottles (with formula, expressed breastmilk or both) because they need to at that time. Sometimes it is a necessary step to achieve exclusive breastfeeding. Sometimes mothers will breast- and bottlefeed, or only bottlefeed because the issues cannot be resolved. And some mothers, of course, decide to bottlefeed their infants as a personal choice that must be respected.
Remember, what we want is that the baby, be he or she fed in whatever way, is as well as possible and that the relationship with mother be as good as possible.  So, how to bottlefeed so it is as close to breastfeeding as can be? 
– Feed on cue. Feeds do not have to be scheduled… babies should be fed when they express the need. Like adults, babies and children eat different amounts at different times. Offer the bottle when baby seems hungry, and lower it when baby is sated; never force her to finish the amount you have prepared if she is unwilling. Keep the bottle in a horizontal position so baby can control the speed and the amount.  
– Feed baby in your arms, with as much skin contact as possible, specially the first weeks. Keep bottlefeeding your child in your arms as he gets older, yes, two, three years! Remember children naturally breastfeed until two to six years of age. All children, breastfed or not, need to be in their mother´s arms, need to be held close and caressed.
– Change sides: as you would alternate breasts for each feed, offer the bottle on both sides of your body.
– Try to have mother be the one to offer the bottle as often as possible, or at least have no more than four or five people do so. During the first weeks mainly the mother, then the father too, and maybe siblings or grandparents. During the first years of life, babies can form secure attachment bonds with four or five people.
– Babies need to suckle for comfort. A mother can offer the nipple for this purpose even if she is producing no milk. If she does not wish to, she can offer a pacifier/dummy but while baby is in her arms, as if baby were doing comfort suckling at the breast (if offered out of context – mother´s body – the dummy will become a transitional object).
– Extra dose of skin to skin contact, co-sleeping, massage, baby wearing, caressing and hugging will insure that baby´s body produces the same beneficial hormones that he does when breastfeeding. This is particularly crucial for adopted infants.
– Wean from the bottle as you would wean from the breast: when the child is ready to do so.
Translated and adapted from:
Dar el biberón como si fuera pecho (Bottlefeeding as if it were the breast)  Ibone Olza
https://iboneolza.org/2012/08/02/dar-el-biberon-como-si-fuera-el-pecho/
Amar con los Brazos Abiertos (To Love with Open Arms), chapter 10. Carmela Baeza
https://www.edicionesencuentro.com/libro/amar-con-los-brazos-abiertos/ 
[1] In other parts of the world or in earlier times, those of wet nurses, this was not necessarily so.