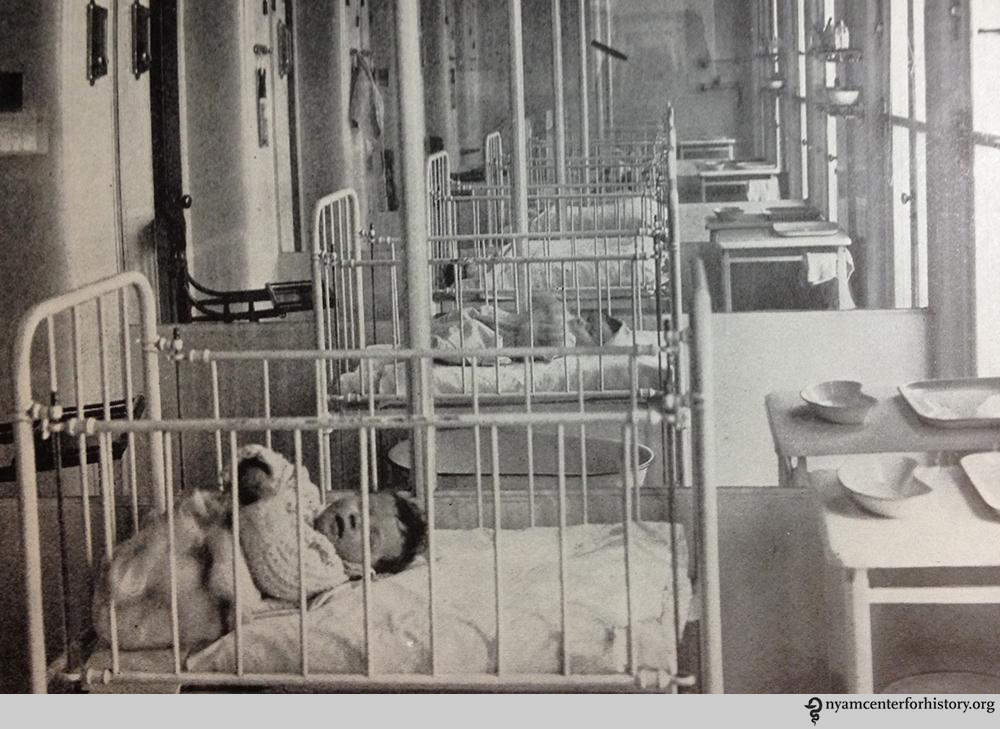 During the 19th century, more than half of all infants who were left in orphanages died during their first year of lifefrom a condition then called marasmus, a word derived from Greek, meaning consumption. This illness was also known as infantile weakness or atrophy.
As late as 1920´s, the death rate of infants of less than one year in various orphanages in the United States was almost 100%.In his 1915 report about children´s institutions from ten different cities, Doctor Henry Dwight Chapin, distinguished New York pediatrician, exposed the astonishing fact that in all institutions save one, every child under two years of age died.   
During the meeting held in Philadelphia, the American Society of Pediatrics, the panelists invited to discuss Dr Chapin´s findings confirmed his discovery as concordant with their own experiences.  Doctor R. Hamil pointed out, with dismal irony: «I had the honor to be connected with an institution here in this city of Philadelphia in which the mortality among infants under one year of age, when admitted to the institution and retained there for any length of time, was one hundred percent." Doctor R. T. Southworth added: «I can give an instance of an institution from New York City that no longer exists in which, in account of the very considerable mortality among the infants admitted, it was customary to enter the condition of every infant in the admission card as hopeless. That covered all the subsequent happenings". Finally, Dr J. H. M. Knox described a study done in Baltimore: of 200 infants admitted to various institutions, almost 90 percent died within the year. The 10% that survived, he stated, seemed to do so because they were taken out of the institution for some periods of time to be with foster parents or relatives.
After recognizing the emotional barrenness of institutions for children, Doctor Chapin introduced a new system: babies were to go to foster families instead of public institutions. However, it was Doctor Fritz Talbot from Boston who, after visiting Germany before World War I, imported the idea of "tenderness and caring", not so much in words but in actual practice.
During his stay in Germany, Doctor Talbot visited the children´s clinic in Dusseldorf, where Doctor Arthur Schlossmann, director of the institution, gave him a tour if the pavilions. They were clean and orderly; however, what piqued Talbot´s curiosity was an obese old woman who was carrying a tiny baby perched on her hip. "Who is that?" he asked, and Dr Schlossmann replied: «Oh, her. It is Old Anna. When we have given a child all possible medical care and still he does not get better, we turn to Old Anna. She never fails."
Sadly, North America was under the influence of Luther Emmett Holt Sr. – professor of pediatrics at the New York Policlinic and Columbia University, and his dogmatic teachings.
Holt was the author of a leaflet, The Core and Feeding of Children, published for the first time in 1849 and which was on its 15th edition by 1935.  During his prolonged reign, he became the highest authority on this topic – somewhat like Dr Spock in the 1960s.
In the leaflet, doctor Holt recommended the abolition of rocking cradles, not picking the baby up when it cried, feeding it by the clock and not spoiling it by too much handling  –even though breastfeeding was recommended, bottlefeeding was not discounted.  The very idea of tenderness and caring was considered un-scientific and therefore note even mentioned, although, as we said, the children´s clinic at Dusseldorf had begun to recognize its importance even as early as the first decade of the 20th century.
Studies to determine the cause of marasmus were not conducted until after the Second World War, after its high prevalence was discovered in infants of high-standing families, hospitals and institutions amongst babies that were receiving the "best" physical care. It became apparent that infants in the poorest of households, close to their mothers, could usually overcome physical disadvantages and thrive despite poor hygienic conditions. What high-class babies in their sterilized, scientific habitats were missing was maternal love. After this discovery in the second half of the 1920s, several pediatric hospitals introduced regular care by mothers in their pavilions. Doctor J Brennemann, who had worked in an institution with an extremely high mortality rate for infants, established a rule in his hospital whereas infants had to be held, walked in mother´s arms and offered her care several times a day.
At Bellevue hospital, New York, where this type of care became the norm, mortality of infants under one year went from 30-35 % to less than 10 % in 1938.
To thrive, it was discovered, an infant needs to be held, walked in someone´s arms, caressed, hugged, sung to,even if not being breastfed. It is this contact, the hugging, caressing, tender care that we want to point out. It is these basic calming experiences that help the infant survive and thrive. Even extreme sensorial deprivation of other senses, like lack of light or sound, can be overcome as long as sensory stimuli on the skin are provided.
They all died
Frederic II (1194-1250) Emperor of Germany, in his day referred to as stupormundi(«surprise of the world») – even though his enemies referred to him in more disparaging ways – wanted to discover what language children would naturally speak if they were brought up in silence. So he gathered infants and ordered their nursemaids to offer minimum care and not speak a word to the babies, as he wanted to determine if the children would spontaneously speak Hebrew, the older language, or Greek, Latin, Arab or maybe their parents´ tongue. It was a meaningless task, as all the infants died. They could not survive withoutthe caressing, the smiles, the words of their mothers or even their nursemaids.
In the words of Salimbene, 13th century historian: «They could not live without the caresses…» This observation is the first know comment about how essential touch and physical contact are for children's development. With certainty, the importance of skin contact was known well before that.
Doctor Harry Bakwin, one of the first pediatricians to support maternal care for hospitalized children, wrote: «In the young child, tactile and kinesthetic sensations seem to be the most important. Infants will immediately calm when they are caressed and given warmth, while they cry in response to painful stimuli and cold."  
Ashley Montagu
From his book   "Touching. The human significance of the Skin." Avon – 3rdrevised edition
https://archive.org/details/touchingthehuman000913mbp/page/n23