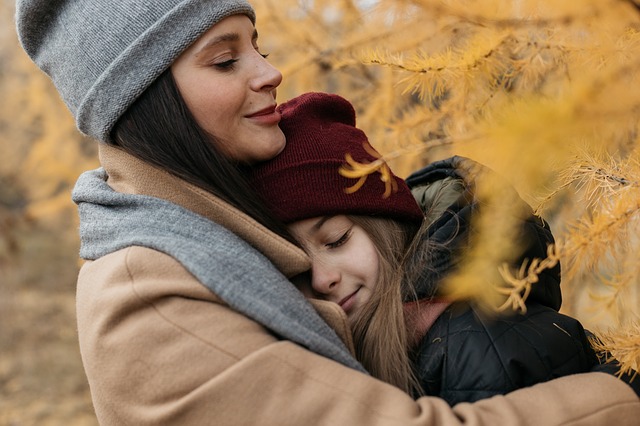 By Carmela Baeza, MD, IBCLC
My teenage daughter is not feeling well. She´s been running a fever for the last couple of days – possibly the flu. Tonight, around four a.m., I woke up because I heard her calling. She walked into our bedroom, crying softly, kneeled by my side of the bed, and said "I´m scared." I sat up and hugged her. My husband, also awake now, said from behind me, "Was it a nightmare?" Our daughter nodded while she cried in my arms. She has always been prone to having nightmares during bouts of fever. "Would you like to stay and sleep here, with us?" I ask her. She is calmer now, smiles gently and me and answers, "No, I´m better now." "Would you like me to come and sleep in your room with you?" I ask. "No, I think I can go back to sleep now. Thank you." So after another minute of hugging, she leaves our room. It´s late Sunday morning now and she still sleeps comfortably.
While I was drinking my peaceful morning coffee, I reflected on the nightly event and it brought up one specific memory. When this daughter was three years old, I weaned her off the breast after a few weeks of tandem breastfeeding with her newborn baby sister. Weaning went well, she seemed to be ready and I was too. But a few weeks after she had stopped nursing, she came up to me, distraught after having taken a small fall, as I was breastfeeding her baby sister and asked "May I have some boobie?" I said "Yes, you may." I offered her my free breast, she looked at it, put her lips close, and then moved away and covered the breast. "I´m ok, I think I can go play again," she said.
What a beautiful emotional dynamic, both times… this touching base with what she feels to be a solid presence, so she can rise again. Not a neediness – she did not need to nurse, she did not need to come into our bed, although both would have been fine. She needed to remind herself that we are there for her. That there is a solid, loving presence she can count on.
How paradoxically humbling and uplifting this is for me as a mother… I often see only all the mistakes I´ve made, all the "bad" mothering decisions, all I lack, all my limits. But I guess I must have done something right… Being physically and emotionally available to our children, using tools like attachment parenting, baby-wearing, breastfeeding in whatever combination and amount we are able to achieve, does work.
And this reminded me of a beautiful little video I watched a few years back, I hope you enjoy it. Give yourself the gift of knowing what a gift you are for your child…
Photo by nastya_gepp, at Pixabay