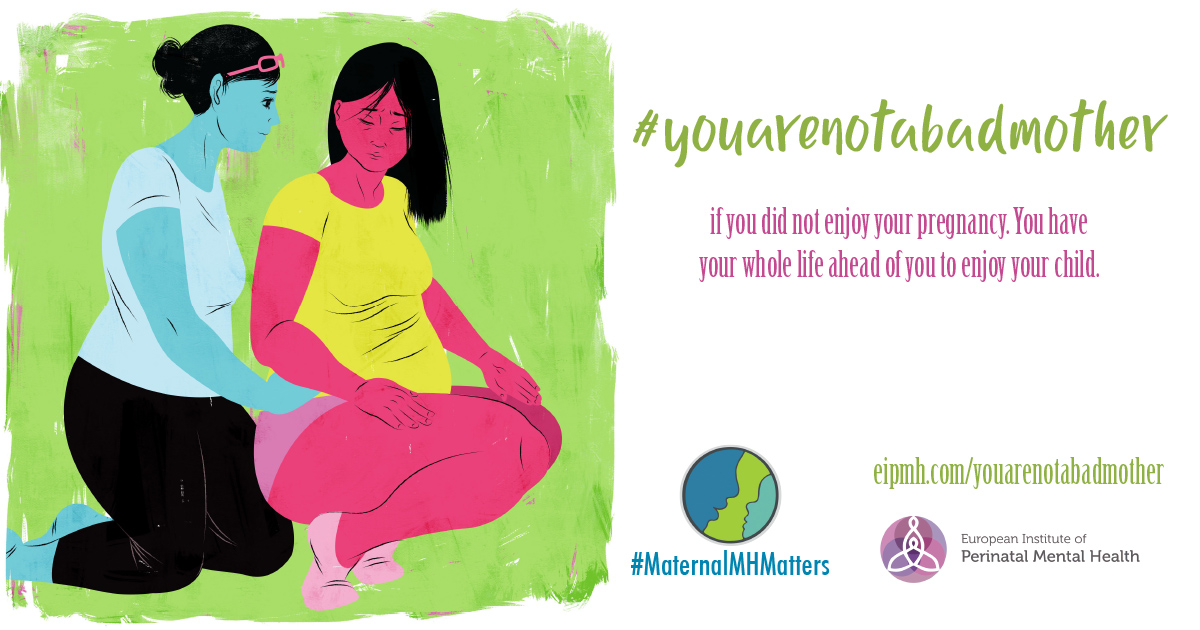 #youarenotabadmother if you did not enjoy your pregnancy or your birth. You have your whole life ahead of you to enjoy your child.
The changes that occur in the body and brain during pregnancy, as well as health concerns or social stress, may cause many women distress – more so if circumstances are adverse or if there is previous trauma, abuse or mental illness.
Respectful support is key to get through this time – let´s care for mothers.
Pregnancy brings with it a neurological and psychological transformation, with brain changes that may activate past trauma or unresolved losses. This may create sadness or distress. Ambivalence or contradictive feelings toward the baby or for the future are very frequent in pregnancy.
Our society barely cares for pregnant women – many suffer stress for fear of losing their jobs, others live in toxic relationships and suffer violence and abuse during pregnancy. Our modern, highly medicalized obstetric attention (always looking for what may be wrong) may cause anxiety and anguish during pregnancy. Women who previously suffered from depression or other mental illnesses are at risk of relapse during pregnancy.
Anxiety, depression and eating disorders during pregnancy, as well as loneliness, precariousness and social exclusion can cause obstetric complications – and, almost certainly, keep women from enjoying their pregnancy or from feeling that they are bonding with their child.
It is important to know that there is hope for healing and repair. Even if pregnancy has been harsh, a woman may be a loving, sensitive mother and the baby may grow and thrive. There are always chances to heal, that is why it is crucial that we listen, offer help and support to all mothers.
Birth is a time of maximum psychological vulnerability – there is always a certain amount of risk and uncertainty. Many women may feel disappointed or sad about the experience, even if they give birth to a healthy baby. Some feel angry or traumatized because they were not well treated or suffered obstetric violence. Integrating the birth experience and healing the emotional wound may take months or even years, but is ALWAYS reparable and there is always a chance to create a wonderful bond with the baby.
It is very important to listen to mothers, validate their feelings and help them to find psychotherapy if necessary.
#youarenotabadmother if you did not enjoy your pregnancy or your birth. You have your whole life ahead of you to enjoy your child.
Original illustration by Ken Tackett
Other interesting reads:
Babies protected from effects of intimate partner violence during pregnancy… by breastfeeding.
Emotion Management During High-Risk Pregnancy: facing the dilemma.
Nils Bergman: "A bad birth experience is always repairable to some extent."