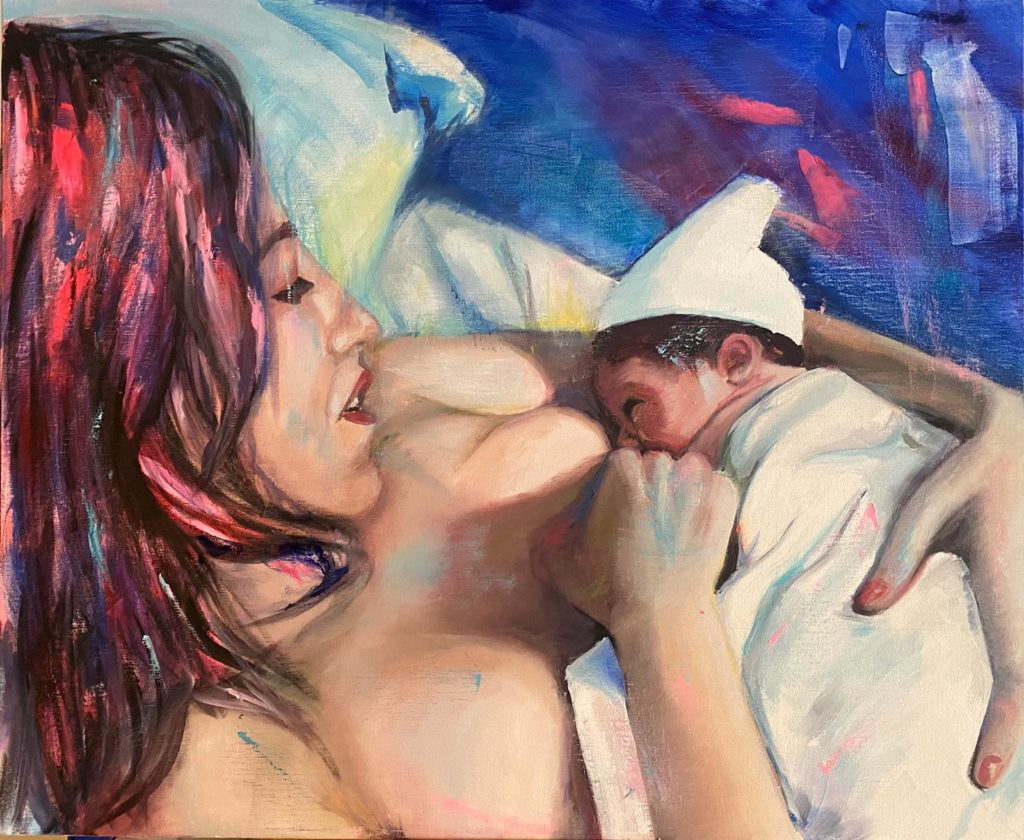 by Ibone Olza, perinatal psychiatrist.

Dear patient,

Thinking about you, I realize you might be a mother who has been separated from her infant. Or perhaps a father. I know of some cases where both, mother and father, are going through coronavirus infection, isolated, without their newborn. Maybe mother is in the hospital, alone, and father is home, alone. So today´s letter is for you, mothers who are isolated alone in the hospital, and you, fathers who are in this very difficult situation.

I am going to share some thoughts, things that I know as an infant psychiatrist and things I know or can intuit as a mother. I myself was separated from one of my newborn children for a week, unable to hold him in my arms and hardly allowed to visit him. So, from that perspective I can tell you: this, too, shall pass – and even though it is hard, it can be healed and transformed by love. I would not dare to give you counsel, I only wish my words will help. If they don´t, just forget them.

The starting point for me is that maternity hides a mystery, or actually, many; each of us has to walk our own path. For me – I am a mother of three young adults now – the most difficult battle has been to not feel guilty about the mistakes I think I made, so what I would least want is for anyone to feel guilty about anything I suggest. All right, lest get to the gist.

Babies feel, understand and love. These three – feeling, understanding, loving – they are able to do more than we usually think. They are wise, they are capable and they want to love and be loved. Your baby, I am sure, wants to be with you, with you both, and know that you are well. Being separated from you is not easy for your newborn, true. But precisely that is why it is important for you to know all that can be done to help him or her as much as possible during this difficult time. Here are some suggestions:
Ask someone to explain to your baby why you are not with him or her, or why s/he is not home yet, but in a hospital. Many wonderful doctors and nurses do this, speak to babies and explain things. You may also record an audio of your voice in which you talk to your baby and explain anything you want, including, if you feel up to it, why you are not together. It is all right if you feel overwhelmed or cry while you explain. Your baby will recognize your voice and understand your message: you are somewhere, you await being reunited, and you love him or her. The baby may cry when hearing your voice, maybe he will listen closely, maybe not. I hope the person playing the message can watch her reaction when she listens to you. In any case, if you can, send your baby voice messages every day, as this will surely help. Don´t be concerned if they tell you the baby cries when hearing your voice – like you, he is overwhelmed and wants to be with you.
Your baby has the right to be with a family member during her hospital stay. With the actual situation, this may not be possible because of the risk of infection. In this case, the nursing staff will care for your baby and keep you updated. If you can, ask the staff if a healthy family member can spend time holding, cuddling and doing skin to skin with your baby. For babies, contact is nurturing. If it is not possible, be patient… it will happen in time!
If you feel strong enough, you may want to keep a diary of your hospital days (and your baby´s). Write what comes to mind, the things that happen each day – when your baby grows up you will like to share this diary. If you are too ill to do so, maybe someone in your family can write.
If you had planned on breastfeeding your baby, it is probable that nurses or midwives are already helping you to express your milk, and hopefully get it to your baby. Anyway, do not feel upset if you do not feel well enough to express, or if you have decided not to breastfeed. What your baby needs most is for you to be well, and to feel loved. You can focus your energy in getting well. In breastfeeding, it is not all or nothing, nor are they irreversible. You can do mixed feeding, or exclusively pump, you can even relactate later – just like mothers of adopted babies do to be able to breastfeed them. If you have decided not to breastfeed, you can hold your baby skin to skin as soon as you are together again, and bottlefeed as if you were breastfeeding.
Perhaps in your head you are constantly re-living the difficult events of the last few days, maybe you feel sad, lost or guilty… These are frequent feeling in these circumstances! They may take a while to disappear, but all this can be healed, and you and your baby can be well. If you cannot sleep or have dark, scary thoughts, or you feel the need to talk about this to someone, you can reach out for professional help. There are a growing number of perinatal psychologists and psychiatrists, specialized in helping at this moment in life. Having dark, scary thoughts can be a sign of the pressure you are under in these difficult times. They do not mean you won't be able to love and care for your baby.
Prepare to meet your baby again! Visualize it. Prepare for that moment when you will see and hold your baby. Trust in it. When you come home, you will have all the time in the world to cuddle and hug, and your whole life ahead of you to repair this initial separation, with love.
Your baby loves you, awaits you, and is completely sure that you are the best mother in the world. Treat yourself with that same love, don't speak ill of yourself, don't judge yourself, don´t feel guilty, please. These are harsh times and what is happening is not your fault.
I wish you strength. I have been beside many mothers, babies and families who started out life in very difficult situations, in hospitals, in intensive care units, separated, in pain… Many of those babies are now healthy, happy adults. Yes, really! There is always time to heal and what heals the most is love.
I wish you a good day.
Ibone
Art by Susanna Carmona
Translated by Carmela K Baeza, MD IBCLC