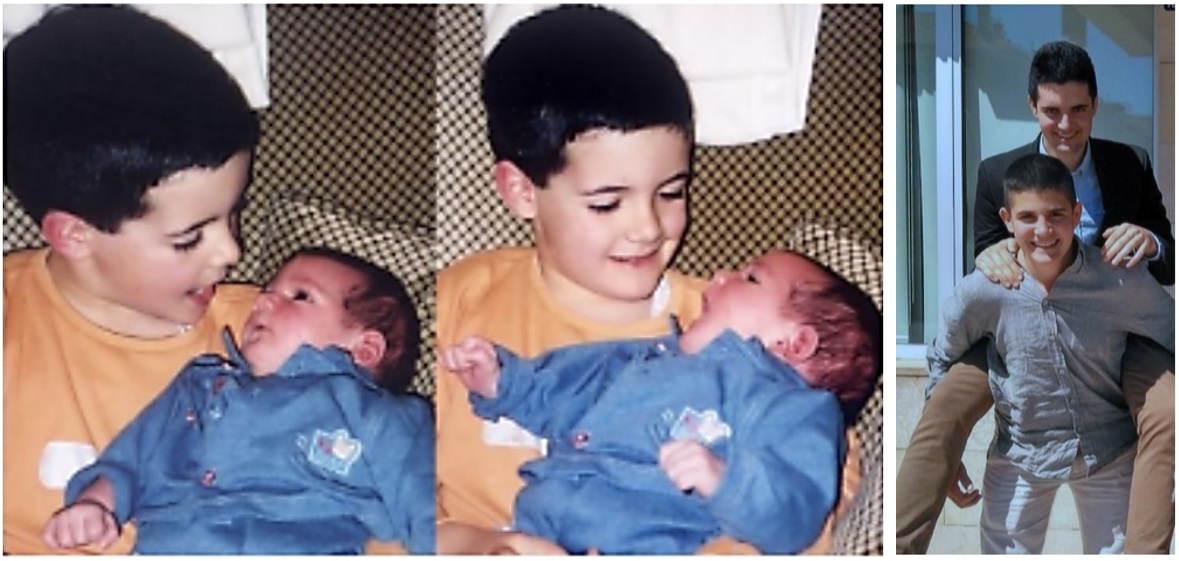 Nest to protect and wings to fly
By Ana González Uriarte, infant psychiatrist and family therapist
I just found this text that I wrote 14 years ago… Now that my youngest son has "flown" on his first journey to study abroad for this whole school year and that my 21 year old also begins an international adventure, I would like to share my insights with you – some things I would write differently now, but I have not wanted to modify what I wrote back then.
We mothers that breastfeed beyond 5 or 6 months often are told that we are causing harm. 15 years after breastfeeding my sons way beyond that limit, I can say none of those harmful things have come to pass.
We often get accused of:
Continuing breastfeeding because of our own need to do so, and not because of the child´s need.
Not letting them develop into autonomous adults
Them only wanting to have breast and nothing else
Not permitting their development as individuals
Not letting them get unbroken sleep
Not letting them become frustrated and therefore turning them into tyrants
Setting them up for personality problems, learning problems.
If it takes them longer than other children to talk, to sit, to walk, to write… it is always blamed on the breastfeeding
And a host of other things, like:

He does not eat enough solids because he is breastfeeding
If they are small or in the lower (but normal) percentiles, it is because of the breastmilk
If they are "too" chubby, it is because of too much breastmilk
If they catch a cold or an illness, I don't know why but it´s also because of breastfeeding
So, here is my answer, 14 years ago:
"There is ample and well known scientific literature (from the World Health Organization, the UNICEF, the American Academy of Pediatrics, the Spanish Association of Pediatrics…) that support the enormous benefits of breastfeeding at multiple levels. And nobody can challenge that. This literature is easy to find, now a days with internet… there is no excuse.
Maternal need?
An actual need … I don´t know if it is so, but certainly if all goes well it is an enjoyable pleasure, just as all behaviors on which the survival and the physical and emotional wellbeing of the species depend are. The sadness or conflicting emotions that not being breastfed or not being able to breastfeed creates is understandable. It is a pleasure to feel how your body can nourish your child, physically and emotionally, it is wonderful to feel how time stops when this bodily contact is happening… try it, you won´t be sorry.
Baby´s need?
Babies are mammals, just as we adults are. But they, as Young persons, are closer to the biological tan to the cultural aspects of life, so yes, they need to be breastfed.  One of the most potent drives right after birth is the need to latch onto the breast.
We don´t let them develop?
Rather, we respect their natural development, we don't try to accelerate it. We let them breastfeed and be close as per their need, to satisfy their need for dependence. Because babies are dependent and their dependence needs to be satisfied. As they grow older they acquire growing capacities that we enjoy watching, but we are always ready to offer our bodies when they are needed. Our toddles explore the world and, in a widening circle, come back to mother´s arms and breast to catch their breath, this is what is normal… the secure base is this relationship with mother which gives the child the strength to go back out and keep growing.
Will they never be autonomous?
We say that to attain autonomy, we need:
1) to develop capacities and abilities, which infants obviously don't have, and
2) that the basic needs of the infant (for contact, for safety) be met.
Therefore, children will reach autonomy when according to their age, the have the ability for it and if and when the basic needs of their initial dependence are met.
Only wants breast? It´s a bad habit?
Most breasted children do seem, at some moments of their development, to want only breast, but these phases usually coincide with moments of stress (beginning of day care, birth of a sibling, change of house) or tensions in the mother or the family, or physical illness. Time, breastmilk and patience cure all.  And as for those that think a toddler breastfeeds as a bad or dirty habit… what kind of person can think that babies can have dirty habits? Yes, breastfeeding is a pleasure, it relaxes the infant and it also relaxes the mother.  And that is good.
We don't let them become individuals?
The impulse towards growth is present in all human beings. The flip side of the coin, to remain in constant symbiosis, can be tempting. However, this temptation, to want your child to forever be a part of you, is for any mother, not just the ones that breastfeed,. Mothers who breastfed have felt a higher physical intensity of symbiosis and precisely for that reason they are more prepared to face separation.
I believe this is a conflict that has nothing to do with breastfeeding.
They don´t sleep well because of the bad habit of breastfeeding?
Children sleep as well as they know how to and according to their normal biology, that is, with frequent awakenings when they are young. Do breastfed babies wake more often? Some do, but then, they also go back to sleep very quickly at the breast. And what of those that awaken and whose mothers don´t have that wonderful tool, the breast? And, would a breastfeeding mother be willing to wean just to check if her baby will sleep better? Given time, all children will sleep through the night.
We set no limits and they become tyrants?
We believe there is no need to create frustrations about affection. Reality itself brings enough of that, since no one, not even children or babies, can attain all they desire. We believe that, as adults, there is no need for us to add to life´s frustrations in an unnecessary way. We are here to accompany them, to alleviate the tension generated by frustration, which is not bad per se and children must learn to tolerate.
I must add there are children with a higher risk of becoming tyrants, and it is those children whose basic emotional needs have not been met and are mired, instead, with things – toys, videogames, junk food- in an attempt to quiet their need for affection, contact, time.
Future personality issues?
I do not know if there are any new, good studies, but the classics – Spitz, Bowlby – spoke about how the lack of care, of touch, of the continues contact with the loving mother, is the cause of grave personality problems.
And here we must ask ourselves: those teenagers that are pathological consumers (of drugs, sex, thrills, objects), are they not the ones who, as babies, were pushed into autonomy too soon, who received only objects to fill the emotional void?
Future learning problems?
The scientific literature describes cognitive benefits of breastfeeding, not only because of its nutrients (which formula companies are forever trying to imitate, adding this and that into infant formulas with no manner of control) but because of the contact and interaction between mother and infant that breastfeeding supports.
And I could go on and on…"
12 years after writing this, I really feel like pointing out that my sons, as well as the sons and daughters of other "extended breastfeeding" friends of mine are competent, autonomous, empathic adults who enjoy life.
Ana González Uriarte